Been making a good bit of changes since my last post. It's been almost a year, so that's not surprising. In this post, I just want to bring the blog up to date on my home lab setup.
Here is a pic of the current hardware: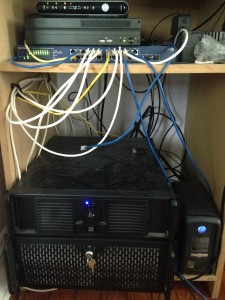 From top to bottom:
Top Shelf:
Verizon FiOS Router (bridged)
pfSense Router (DNS, DHCP, NTPD, VLANS)
Netgear GS724T (24-port Gigabit L2 Switch)
CyberPower UPS (far right)
[Unpictured: Belkin Wireless Router)
Lower "Rack":
White Box ESXi Host (ESXi 5.5, Xeon X3440, 16GB)
FreeNAS Storage (FreeNAS 9.2.1.6, 16GB, 6x 2TB RAIDZ2 w/ ZIL on BBU add-on card)
CyberPower UPS (right)
Cabling isn't as pretty as it has been, but adding experimental hardware, reorganizing bits, etc, it's come undone a bit.
Now for the actually infrastructure.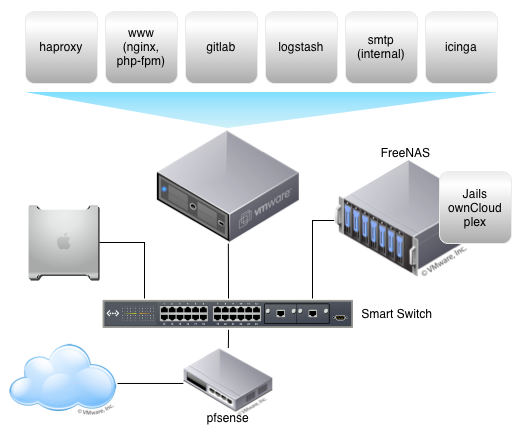 The graphic should be fairly self explanatory. I will post about the individual services in the future.